You probably know this already since everyone and their dog (literally) seems to have a Facebook page, but this week is supposed to be wayback week and you're supposed to change your profile picture to a retro one of you as a kid. Seems a bit silly, but after a while it really started catching on and there are some pretty hilarious and cute photos popping up.
I decided to dig up some old photos, scan them in, upload them to Facebook, and tag all my friends. Here are a few of the ones I scanned in.
1983 Brownies - Check out the beauty we had for a troop leader (HI MOM!)
1984 Brownies - Currently my Facebook profile picture!
1986 Abby's Pizza Fastpitch Softball Team
1989 or 1990 Shockers Fastpitch Softball Team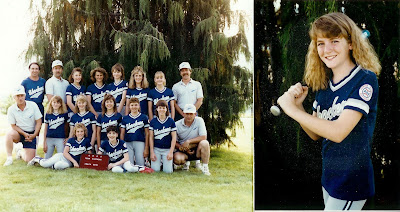 1992 Summer Breeze Dance
1991 JV Tennis
1992 Varsity Tennis